Adult Martial Arts & Karate Classes
Deciding to take time for yourself can be difficult, but when it comes to protecting yourself and your loved ones, the decision becomes easier. Our Adult martial arts program focuses on street-minded techniques to ensure you have the skills to handle yourself in any situation. Build confidence and capability, paired with combat techniques to protect what matters most -- you and your family.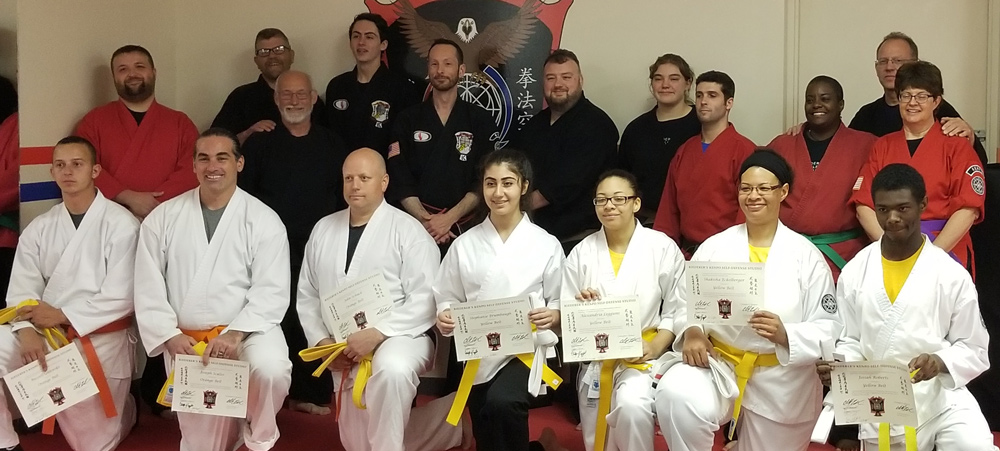 Adults, Ages 15+
With several weekly group classes to fit your busy schedule, not only will you learn our complete kenpo system, but you will also relieve stress, increase muscle tone, improve health, and gain confidence. Attend as many karate lessons in your program as you like!
Our martial arts classes include a friendly atmosphere and highly varied experience levels. Most adults join with little to no experience, and that's okay. Though we have main- and advanced-adult classes, we encourage learning and teaching together. Smaller student-teacher ratios ensure personal attention and faster improvement!
Main adult classes are open to adults of any belt level. These feature instruction on basic and intermediate self-defense skills, sharpening coordination and timing, and learning real-life, street effective techniques. Students will begin to feel more capable, faster, stronger, and most importantly, safer.
Advanced karate classes for Orange Belts and higher add more nuanced and complex self-defense skills. Kenpo techniques are applied to increasingly imaginative and potentially unforeseen ways, truly embracing the art of "what if".